Knee
Knee Anatomy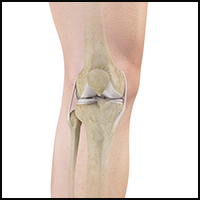 The knee is a complex joint made up of different structures including bones, tendons, ligaments and muscles. They all work together to maintain normal function and provide stability to the knee during movement.
Having a well-functioning healthy knee is essential for our mobility and ability to participate in various activities. Understanding the anatomy of the knee enhances your ability to discuss and choose the right treatment procedure for knee problems with your doctor.
Arthroscopy of the Knee Joint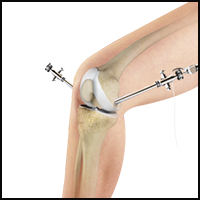 Arthroscopy is a surgical procedure in which an arthroscope is inserted into a joint. Arthroscopy is a term that comes from two Greek words, arthro-, meaning joint, and -skopein, meaning to examine.
The benefits of arthroscopy involve smaller incisions, faster healing, a more rapid recovery, and less scarring. Arthroscopic surgical procedures are often performed on an outpatient basis and the patient is able to return home on the same day.
Total Knee Replacement (TKR)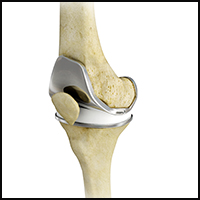 A total knee replacement (TKR) or total knee arthroplasty is a surgery that resurfaces arthritic knee joint with an artificial metal or plastic replacement parts called the 'prostheses'.
The procedure is usually recommended for older patients who suffer from pain and loss of function from arthritis and have failed results from other conservative methods of therapy.
Anterior Cruciate Ligament (ACL) Reconstruction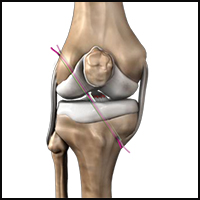 The anterior cruciate ligament is one of the major stabilizing ligaments in the knee. It is a strong rope like structure located in the center of the knee running from the femur to the tibia. When this ligament tears unfortunately it doesn't heal and often leads to the feeling of instability in the knee.
ACL reconstruction is a commonly performed surgical procedure and with recent advances in arthroscopic surgery can now be performed with minimal incision and low complication rates.
ACL Reconstruction Hamstring Tendon
For more information about Anterior Cruciate Ligament (ACL) Reconstruction, click on below tabs.
ACL Reconstruction Patellar Tendon
For more information about ACL Reconstruction Patellar Tendon, click on below tabs.
Unicondylar Knee Replacement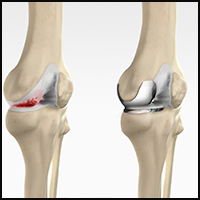 This simply means that only a part of the knee joint is replaced through a smaller incision than would normally be used for a total knee replacement. The knee joint is made up of 3 compartments, the patellofemoral and medial and lateral compartments between the femur and tibia (i.e. the long bones of the leg). Often only one of these compartments wears out, usually the medial one. If you have symptoms and X-ray findings suggestive of this then you may be suitable for this procedure.
For more information about Unicondylar Knee Replacement, click on below tabs.
Revision Knee Replacement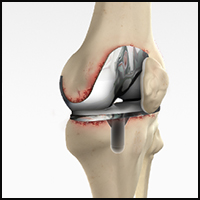 This means that complete or a part of your previous knee replacement needs to be revised. This operation varies from a very minor adjustment to a massive operation replacing significant amount of bone and hence is difficult to describe in full.
MAKO/ Partial Knee Resurfacing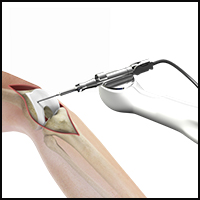 Mako Robotic-Arm Assisted Technology provides you with a personalized surgical plan based on your unique anatomy. First, a CT scan of the diseased knee joint is taken. This CT scan is uploaded into the Mako System software, where a 3D model of your knee is created. This 3D model is used to pre-plan and assist your surgeon in performing your partial knee replacement.
Computer Assisted Orthopaedic Surgery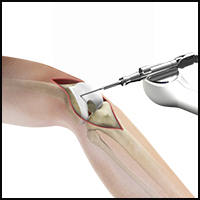 Computer-assisted technology has made it possible for your orthopaedic specialist to navigate joint replacement procedures with a level of accuracy so precise it may improve the results of your surgery.
eLIBRA® Dynamic Knee Balancing System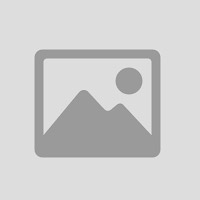 The eLIBRA® Soft Tissue Force Sensor provides the most reliable method for balancing a Total Knee Replacement by developing dynamic balance with the patella in position prior to resecting the posterior femoral condyles. Designed to work with existing implant systems, the eLIBRA® system utilizes a surgeon-validated technique to balance deformed knees. In fact, when applied correctly, the eLIBRA® system achieves knee balance in every case.
Please use the links below to get more information from the American Academy of Orthopaedic Surgeons:
Broken Bones and Injury
Common Knee Injuries
Hamstring Muscle Strain
Muscle Strains in the Thigh
Fractures
Femur (Thighbone) Fractures in Adults
Femur (Thighbone) Fractures in Children
Growth Plate Fractures
Proximal Tibia Fractures
Shinbone (Tibia) Fractures
Stress Fractures
Tears and Instability
Kneecap, Unstable
Ligament Injuries of the Knee
Meniscus, Tears of
Posterior Cruciate Ligament, Tears of
Pain Syndromes
Osgood-Schlatter Disease (Knee Pain)
Runner's Knee (Patellofemoral Pain)
Shin Splints
Diseases and Syndromes
Bowed Legs
Bursitis of the Knee: Goosefoot (Pes Anserine)
Bursitis of the Knee: Kneecap (Prepatellar)
Limb Length Discrepency
Osteonecrosis of the Knee
Arthritis
Arthritis of the Knee
Osteoarthritis of Knee — Social Impact
Osteoarthritis of the Knee – Frequently Asked Questions
Pain Syndromes
Burning Thigh Pain (Meralgia paresthetica)
Compartment Syndrome
Knee Pain, Adolescent Anterior
Osgood-Schlatter Disease (Knee Pain)
Runner's Knee (Patellofemoral Pain)
Treatment and Rehabilitation
Osteoarthritis: Surgical Treatment
Joint Replacement
Anesthesia for Hip and Knee Replacement Surgery
Knee Replacement and Implants
Knee Replacement, Cemented and Cementless
Knee Replacement, Minimally Invasive
Knee Replacement, Osteotomy and Unicompartmental Replacement (Arthroplasty)
Total Knee Replacement
Nonsurgical Treatment
Care of Casts and Splints
How to use Crutches, Canes, and Walkers
Viscosupplementation in Osteoarthritis of the Knee
Arthroscopy and Reconstruction
Anterior Cruciate Ligament Injury, Surgical Considerations in
Knee Arthroscopy
Meniscal Transplants
Considerations
Postoperative Care
Knee Arthroscopy, Exercise Guide
Knee Replacement – Exercise Guide
Knee Replacement, Activities After