Big Bill Testimonials
Cormet Anterior CHR Dr. Kreuzer 7/9/08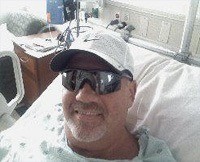 Big Bill with a Bright Future and a Great Cormet Resurfacing
…I go in for resurfacing on 7/9. My surgeon is Dr. Stefan Kreuzer at Memorial Bone & Joint in Houston. He has done 50 resurfacings to date. He does the anterior approach (see the animated video on his website) and is using the Cormet device. He has trained with others, like Birmingham, but is currently using the Cormet. It was FDA approved 7/07 is is gaining popularity.
July 12, 2008
Home 7/11 and doing great. Came home w/only crutches, slept great, stood up w/out crutches today for 30 minutes while shaving and freshening up. Been getting up at will doing my exercises w/thoughtful moderation.
---
July 16, 2008
I have recently acquired the rank of Surface Hippy !!! I am 1 week into my journey…been keeping in touch with a few of you out there in Hippyland. I am categorized as an "Anterior Approach Cormet Surface Hippy"…with a glued incision…according to Pat ….a rare breed indeed! Feeling great …following the docs advice…not pushing it too much. One crutch Charlie most of the day today…wow has a lot has transpired in the last week! Had some swelling and tenderness the last few days (doc says normal), but no more hip pain! I want to say "THANKS" to Pat (hope you are getting better!) …for all the support that this site gives. There are many other people I want to thank again…you know who you are! Congrats to all of the other Hippies and future Hippies out there….share your stories and experiences…that is what this site is all about.
I have been asked to participate in a 24 month study with Cormet. I will post as time permits. Lites out soon…big day planned tomorrow!
---
July 18, 2008
9 days post-op
Decided to measure my incision. The wife maintains it is a "male thing" …but I informed her that the ladies measure ,too ! My incision is 5″ on the dot. I had the anterior approach and it was glued with Dermabond. It looks good to me! I am more concerned what transpired under the scar. It is amazing how good I feel and how well I am doing. Went from 1 crutch Charlie to the "Master of the Cane" today! Well …not really master yet…but that is what I am going to call it ! Going to the Dr. on Monday for my first post-op visit. They said they made a DVD for me with all of my old x-rays over the last few years and the final one showing the resurfacing ! Way cool….or "HIP" as we say here!
Talk to you all soon,
Big Bill, Cormet Anterior Surface Hippy (aka) C.A.S.H.
---
July 19, 2008
Did 1 mile today —hot here in Houston! Wore my TED stockings and took 1 crutch for that kind of walk. For 10 days out I impressed myself! BIG improvement from the first time up post op–ten steps to the nurses station! Anyway I was glad to get home, had lunch, kicked back and played with the kids! This whole deal has been amazing !
---
July 22, 2008
Yesterday was my 1st post op visit ….resurfacing was on 7/9/08…all is good. Was released to drive, start my own PT…been doing that already and ready to see, with common sense and moderation, what else I can do !The glued incision looks great, just can't get in the pool for another week or so. ( I really miss the pool) It needs to be totally healed and scab free. Don't want to risk ANY infection ! Thanks to all for your feedback and personal emails. Time to get out of the house and get moving!
Big Bill– Cormet Anterior Surface Hippy, C.A.S.H.
---
July 23, 2008
I would like to think I am about on the normal side …I am really just amazed with the anterior procedure and not to be in pain anymore I feel very fortunate and blessed to have so much support. It has built my confidence and ability to strive for more. Thanks to everyone… and let us not forget Pat…a special thanks to you . Well… today is my 2 week post op date…all is well. I was a bit concerned yesterday when I got a call from my surgeon's (Dr. Stefan Kreuzer) office. They wanted to know if I could come back in ….I was just in for my 1st post op visit on Monday, so I asked …what for … something wrong …their reply was that since I was doing so well that they wanted to do a video of me about my progress! This would be something outside of the Cormet Study, for Dr. Kreuzer. I will happily do so. After all, Dr. Kreuzer and his team have given me more than I could have hoped for ! Talk to you all soon!
Big Bill— C.A.S.H.